Manila Museums Summit 2021
May 27, 2021
Manila Museums Summit 2021
Histories and Other Stories: Figuring Out the Times in Museums
26 to 28 May, Wednesday to Friday
Presented by AGMAM, in partnership with PAAFI, and with the support of NCCA and MFPI.
On the year that we mark the quintcentennial of Magellan's landing in the Philippines, we focus our attention on history and heritage. As the stage on which we encounter the past through material culture, museums, heritage houses and archives remain powerful producers of narrative while being potent spaces to unpack complex histories and platforms for critical conversations. Social unrest, the climate crisis and the global pandemic have accelerated changes in many cultural institutions. Heightened public interest in untold stories, natural heritage and local histories, have allowed museums to present more experimental exhibitions and programs resulting from trans-disciplinary collaborations.
The Manila Museums Summit 2021 will be hosted via Zoom with livestreaming on Facebook.
Zoom registration for Day 1:
http://bit.ly/ManilaMuseums2021Day1
Zoom registration for Day 2:
http://bit.ly/ManilaMuseums2021Day2
Zoom registration for Day 3:
http://bit.ly/ManilaMuseums2021Day3
Google form for requesting certificate:
http://bit.ly/ManilaMuseums2021Certificate
Repost from AGMAM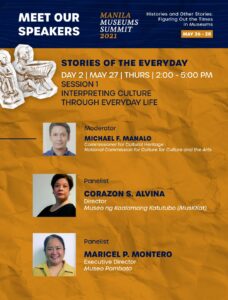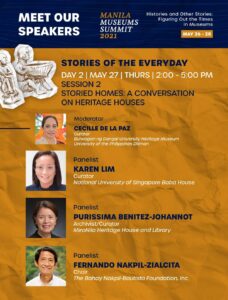 On Day 2: Catch former MFPI President Purissima Benitez-Johannot and former MFPI board member Mico Manalo as they talk about Stories Of The Everyday in today's session of Manila Museums Summit 2021!
REGISTER to join the conversations on history and heritage today from 2:00 to 5:00 PM:
http://bit.ly/ManilaMuseums2021Day2
For inquiries, email us at manilamuseums.summit@gmail.com
<

Back to News