The Museum Foundation of the Philippines, Inc. (MFPI) is a non-stock, not-for-profit membership and volunteer organization dedicated to preserve and promote the Philippines' rich artistic and cultural heritage and to provide funding support for the special projects of the National Museum and other museums in the Philippines. To do this, MFPI conducts lectures and cultural study tours in the Philippines, docents guide, and organizes special fundraising events like the MaArte fairs, and form partnerships with other organizations and institutions.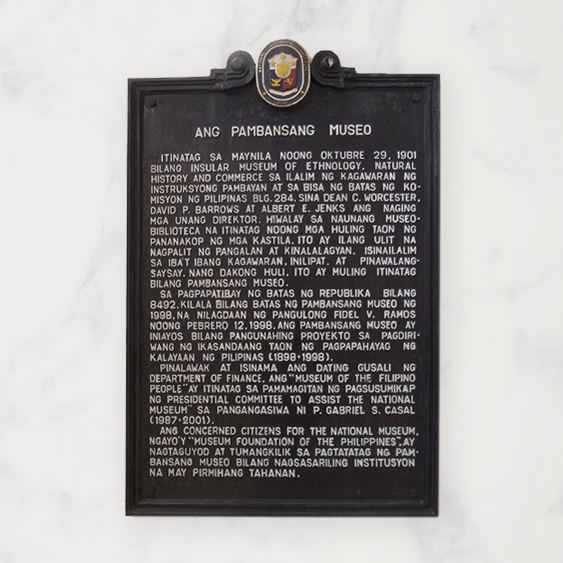 Early Years
The initiative started in the early 1980s as an informal gathering of Friends of the National Museum Inc. When the EDSA People Power Revolution happened in 1986, it ushered in a period of unprecedented public participation in civic affairs and the Friends of the National Museum met again and was renamed as the Concerned Citizens for the National Museum. CCNM was organized under the leadership of Mrs. Purita Kalaw-Ledesma, Dr. Jaime Laya, Mr. Ramon Villegas and Mrs. Esperanza Gatbonton, among others.
In 1995, CCNM's name was changed to Museum Foundation of the Philippines, Inc. (MFPI) allowing it to assist private museums as well as to continue providing support of the National Museum. This paved the way to secure the charter under which the National Museum operates and successfully advocated for securing for the Museum's use three landmark buildings that date back to the American colonial era. These efforts have transformed the area around Rizal Park (formerly Luneta) into a cultural hub promoting greater awareness, appreciation, and pride in the Philippines' historical and cultural heritage.
Some Significant Projects/Initiatives:

The Museum Foundation of the Philippines Hall at the National Museum of Fine Arts that housed the four murals of National Artist Carlos "Botong" Francisco entitled The Progress of Medicine.

An extensive Teacher Training Program for elementary and high school curricula funded by the Ford Foundation.

Restoration of Juan Luna's La Bulaqueña work housed at the National Museum.

Art in the Park fair, 2007-2013. This event was later handled by Philippine Art Events.

Printing of the book Habi: A Journey Through Philippine Handwoven Textiles.

Supported the Exhibition and Publication of Feast of Merit, Museo Kordilyera.

Making Museums Work: A Zero-In Handbook.

Printing of Rara: Art and Tradition of Mat Weaving in the Philippines by Elmer I. Nocheseda in support of Habi: The Philippine Textile Council.

Financial donation for the renovation of the National Museum of Natural History.

Donated the Tagbanua and Maranao antique artifacts which is now on display at the "Faith, Tradition and Place: Bangsamoro Art from the National Ethnographic Collections" exhibition at the National Museum of Anthropology.
---
Here are the officers for 2022-2023:
Atty. Dominador D. Buhain
---
Board of Trustees
Danny C. Jacinto
Gemma Cruz Araneta
Atty. Dominador D. Buhain
Maximillan G. Ventura
Homer Ivan U. Man Dy
Michael Angelo V. Liwanag
Ma. Belen Pilar M. Fernando
Roberto F. Abastillas
Ma. Rosario A. Estrada
Melvin M. Mangada
Eduardo I. Mapa, Jr.
---
Past Presidents
Purita Kalaw-Ledesma (1988)
Roberto Lopez (1989)
Anna Marie 'Bambi' Harper (1991)
Concepcion A. Poblador (1992)
Maria Isabel G. Ongpin (2001)
Armita B. Rufino (2008)
Purissima "Petty" Benitez Johannot (2011)
Lisa Periquet (2014)
Maritess Pineda (2014)
Albert Avellana (2016)
Yael Buencamino Borromeo (Ex Officio 2021)