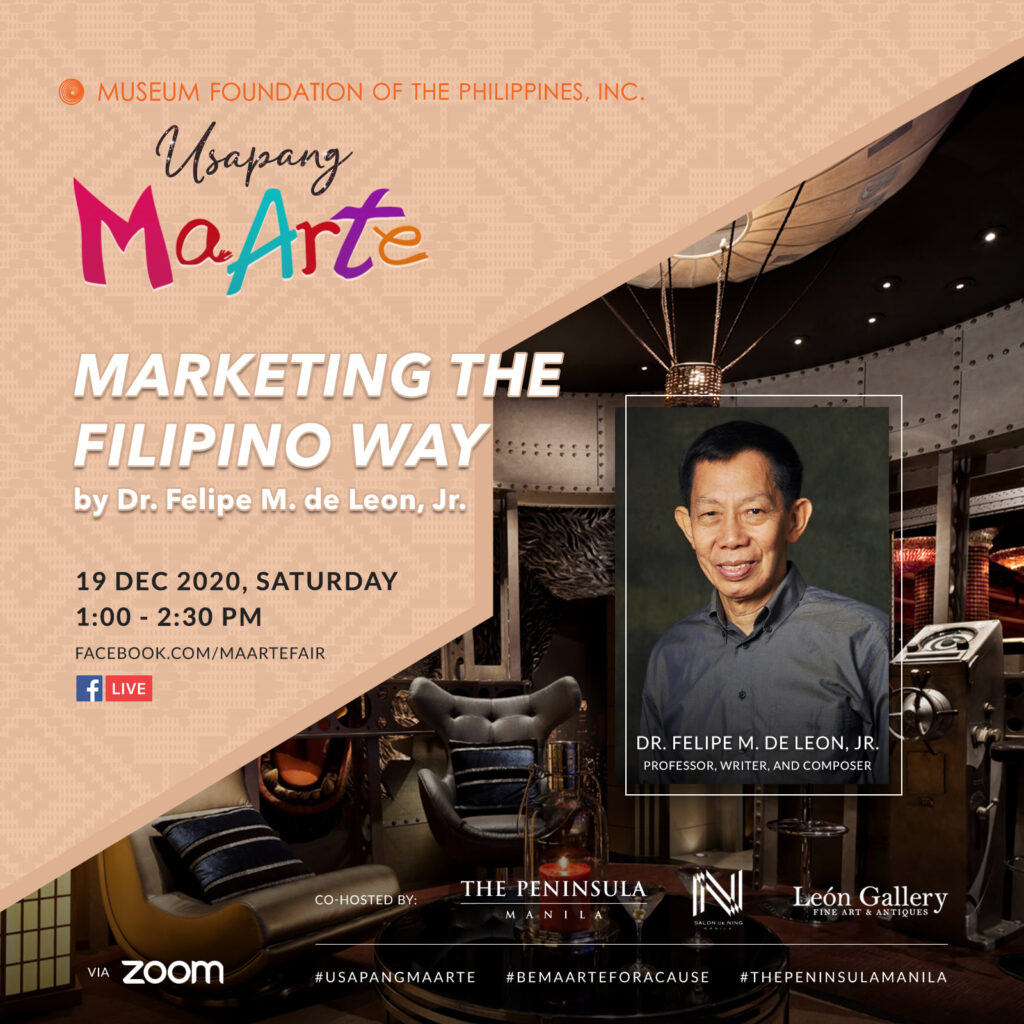 Dr. Felipe M. de Leon, Jr.
19 December 2020, Saturday, 1:00 – 2:30 pm via Zoom and Facebook Live
Admission is free. Limited slots available
Please click this link to register: https://bit.ly/UsapangMaArteMarketing
This webinar will also be streamed via Facebook Live through the MaArte Fair Facebook page
https://www.facebook.com/maartefair
For inquiries, email us at inquiry@museumfoundationph.org
Filipinos respond to life mainly through feeling. We are people of the heart. We love to connect to people. Friends are forever. And we like to read love stories and watch TV dramas about romance. We are people who are highly skilled in creating situations, activities or things that bring people together.
Given these qualities of character, it is easy to understand that Filipinos would prefer market conditions that connect people to one another or bring them together. So what are some of these conditions?
This lecture will enumerate essential conditions that can attract and persuade Filipinos to buy.
Dr. Felipe M. de Leon, Jr., is a professor, writer, and composer. He was Chairman of the National Commission for Culture and the Arts (NCCA) from 2011-2016. He was Chairman of the Humanities Department of the University of the Philippines (UP) Diliman from 1976-82 and President of the National Association for Philippine Psychology in 1985-86.
He is active in promoting and preserving Philippine indigenous cultural heritage and specializes in aesthetics, music theory, and culture and human development issues. He is a lecturer in the international academic circuit and currently a Professor at the Asian Social Institute on development studies and social transformation courses.
Co-hosted by
The Peninsula Manila
and Leon Gallery
#UsapangMaArte
#BeMaArteForACause
#MuseumFoundationPH
#SupportNationalMuseum
#ThePeninsulaManila
#LeonGallery