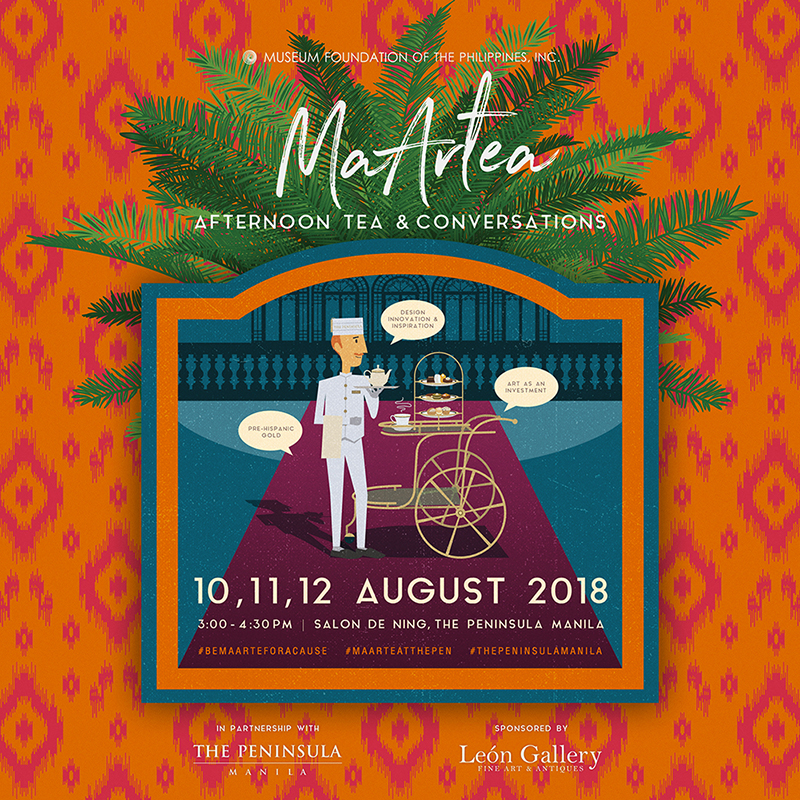 MaArTEA TALKS
3:00 – 4:30 PM, Salon de Ning, @ThePEN
Open to the Public. Registration @MFPI
In partnership with The PENINSULA Manila
Sponsored by Leon Gallery
August 10
"Design Innovation and Inspiration for Aranaz and Siklo"
MaArte Exhibitor Amina Aranaz and ManCave Exhibitor Clarice Eucacion
Amina Aranaz is the Creative Director and Lead Designer of a mother-daughter enterprise that crafts hints of the exotic and artisanship for the modern Filipina. What inspires their design innovation?
Siklo talk topic: Environmental enterprise. Upcycling for an eco-ethical lifestyle. Clarice Ecuacion: Co-founder of Siklo Pilipinas. She advocates for environment protection. Shared interest with designer/co-founder husband
are island bikepacking & exploring road less travelled
August 11
"Art as an Investment"
Tonico Manahan
Is investing in Art a valid alternative class of investments or do Collectors rationalise their hoarding by claiming art as an investment? Tonico Manahan is a practicing lawyer who was raised by parents who infected him with the disease of collecting.
August 12
"Pre-Hispanic Gold and their 2018 Counterpart"
Victor Estrella, MFPI Grantee
Knoi Esmane, Guild of Philippine Jewelers
Victor Estrella will talk about his MFPI-funded research on ancient gold working traditions in Butuan, Mindanao, Philippines. He examined the techniques applied in the manufacture of 12th to 15th-century gold artefacts of the National Museum of the Philippines. Victor Estrella is an archaeologist from the University of the Philippines Diliman. His studies focus on Philippine protohistory and material culture in the past.
Knoi Esmane will give a 21st century reaction to Mr. Estrella's talk and show how many Filipino contemporary jewelers find inspiration in pre-Hispanic designs and jewelry making processes. Knoi Esmane is the Chief Creative Officer of Hoseki, Corporate Secretary of the Guild of Philippine Jewelers and the Philippines' most internationally awarded jeweler.