Back to School: Virtual Field Trips
September 20, 2021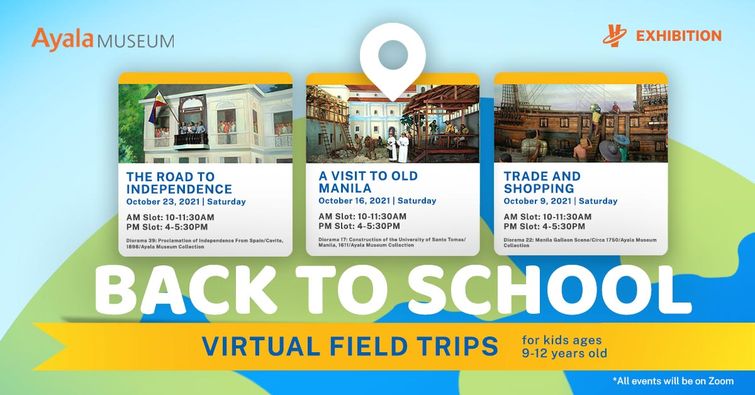 Still can't go out on a field trip this school year?
Don't worry, we're bringing the adventure to you!
With Ayala Museum's Virtual Field Trips, let's travel around the world using Google Maps. Learn about Philippine history and culture through objects from the Ayala Museum collection. Join the fun and make new friends while staying safe at home!
?️ TRADE AND SHOPPING
October 9, 2021 | Saturday
What are the things you use everyday and where did they come from? Through this tour, appreciate everyday objects that are a result of very old connections with other countries
? A VISIT TO OLD MANILA
October 16, 2021 | Saturday
What was a normal day in Manila like? Visit 19th century Manila and see how life was like in the city back then.
?️ THE ROAD TO INDEPENDENCE
October 23, 2021 | Saturday
What are the things you can do today because of your freedom? Understand the importance of your rights as a Filipino and the importance of being an independent country.
⏰ TIMESLOTS
Morning Slot: 10:00-11:30AM
Afternoon Slot: 4:00-5:30PM
? TICKETS
Season Pass – P1950 (For 3 tours)
Regular – P750
Discounted – P600 (For AGC Employees, Ayala Museum Members and ARC Cardholders)

<

Back to News