The NM Honor Roll: Mariah Camille T. Calanno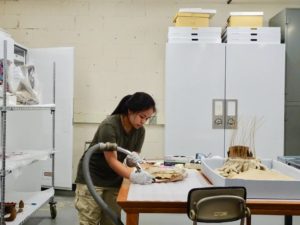 The NM Honor Roll: Mariah Camille T. Calanno
Our Museum Researcher for Conservation Mariah Camille T. Calanno is the recipient of a 6-month Asian Cultural Council Scholarship to Yale Peabody Museum of Natural History in New Haven, Connecticut, USA. Her training program involves developing sets of protocols for a conservation treatment plan applicable to the Benguet mummies. The National Museum is responsible for the protection of these mummies, having been declared National Cultural Treasures under the Presidential Decree No. 260 in 1973. Camille is part of our interdisciplinary research and conservation team that has been working with the University of the Philippines Los Baños in arresting their deterioration due to environmental conditions, mishandling and tourism.
Soon after arriving last week, Camille began her training program, having been assigned to the Anthropology section of the Yale conservation laboratory. She is shown in this photo engaged in preventive conservation of Native American ethnographic objects at the working area of the Anthropology Department's storage. She wrote, "these objects just came out of the freezer for pest control and are about to be placed in steel climate controlled cabinets".
Camille's grant is being funded by the Museum Foundation of the Philippines, Inc. This the second ACC Sholarship MFPI has supported. The first was awarded to conservator Mr. Robert Balarbar in 2015.
Photo courtesy of MCT Calanno.
© The National Museum of the Philippines (2017)
<

Back to Grants