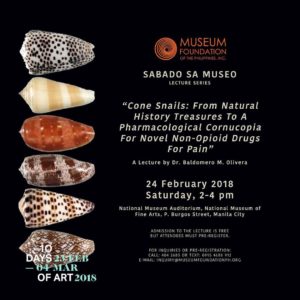 What: Sabado sa Museo Lecture Series
Title: "Cone Snails: From Natural History Treasures to A Pharmacological Cornucopia for Novel Non-Opioid Drugs for Pain"
a lecture by Dr. Baldomero M. Olivera
When: 24 February 2018, Saturday, 2:00 – 4:00 pm
Where: National Museum Auditorium National Museum of Fine Arts, P. Burgos St., Manila City
Host: Museum Foundation of the Philippines
GF National Museum of Anthropology
Finance Rd., Manila City
Contact: Zeny Recidoro
Executive Director
executivedirector@museumfoundationph.org
404-2685 / 0915-468-8912
Museum Foundation of the Philippines' Sabado sa Museo Lecture Series presents "Cone Snails: From Natural History Treasures to A Pharmacological Cornucopia for Novel Non-Opioid Drugs for Pain" a lecture by Dr. Baldomero "Toto" M. Olivera. The lecture will be on 24 February 2018, Saturday, from 2 – 4 pm at the National Museum Auditorium, National Museum of Fine Arts, P. Burgos St., Manila City.
Dr. Toto Olivera is a Distinguished Professor of Biology at the University of Utah, and an adjunct professor at the Salk Institute, a Howard Hughes Medical Institute Professor. An avid collector of cone shells since childhood, his patent keenness for these creatures has led him to developing them as an exciting source of potential new drugs. In this lecture, he will describe the processes and findings of his experiments on the venom of poisonous cone snails as a source of alternatives to opioids such as morphine. In 2007, Dr. Olivera was awarded Harvard Scientist of the Year. He is also an elected member of the U.S. National Academy of Science, the U.S. Academy of Medicine, and the American Philosophical Society. His scientific interests span the fields of Neuroscience, Biochemistry, and Biodiversity.
Admission to the lecture is free but attendees must pre-register. For inquiries or pre-registration, call: 404 2685, text: 0915 468 8912, or e-mail: inquiry@museumfoundationph.org.